Hornet Custom Black Max 2.25 Ruger 10/22 - Best Seller!
from $ 139.95
Our Best Seller.  An affordable High-Performance match grade trigger assembly for the Ruger 10/22.  Custom tuned and hand fitted the old fashioned way.  Trigger release: Exclusive butter-smooth 2.25 lbs. Optional ZTUO option included:  Zero take up.  Zero trigger play.  Zero creep.  For seasoned rimfire shooting sportsmen trained and experienced with safety precautions.  Not recommended for beginners or casual use.  Application:  Target shooting, fast-action competition shooting and small game hunting.  The best all-around performing trigger available on the market at half the price.  Guaranteed light trigger release:  Smooth, precise, and consistent.  Accurately measured 2.25 lb. trigger release bench tested using precise suspended dead weights with the trigger clamped to a vise.  Extended magazine release and auto bolt release included.  12-month warranty covering parts and labor, excluding postage.  No sales tax.
Option1:  Wraparound extended magazine release made by Tactical Solutions.  Installed. 
Option2:  Over-travel trigger option with hex wrench.  Installed. 
Option 3:  Wraparound extended magazine release made by Tactical Solutions + Red Trigger Option.  
Option 4:  Grey polymer housing instead of black.
Option 5:  OD Green Trigger & Magazine Release.
Select from style box
Postage:
Via First Class Postage. Usually one-week delivery for continental USA, HI & AK. International shipping to Canada and Europe, select at checkout.

Satisfaction Guaranteed: 30-day return policy. 12-month warranty parts and labor. Full refund, less postage.
---
Yes! We will $Buy$ your trigger assembly:
Send us your trigger assembly for $33 cash or credit towards one of our Hornet Custom Triggers. It must be in good working condition, with no missing parts. Upon examination we will send you a check or credit towards one of our better trigger assemblies. If it is substandard, we will return it to you no charge.
View product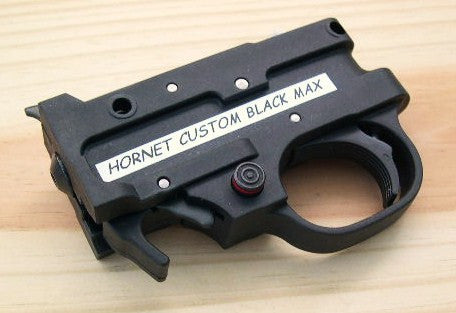 Welcome to our new home
We have been in business since 2001 at eBay.com, Amazon.com, and hornetproducts.com. Our new website is being improved over the next couple months to provide better service and support to our loyal International and USA customers.  Recently, eBay's seller policy prohibits our selling products to Europe and Canada.  This new website means you may order triggers and accessories for international shipment to any country from Australia, Canada, Europe, and USA.
We are devoted rimfire sportsmen that enjoy small game hunting, plinking and sub-MOA target shooting. It is fun, challenging and part of the tradition of rural America, Canada and Europe.
Begin by clicking the USA & International Catalog at the top of the page for a selection of unique products.

Telephone Orders and Customer Service: Call (941) 359-1319 
---
Five Stars
Everything They Said It Was By Carl Cloer  Verified Purchase
I originally bought the new Ruger BX replacement trigger group online and immediately sent it back for a refund after trying it...not worth $80.00. I bought this product for my new Ruger Charger, and paid a bit more for for the model with the aluminum trigger, but without the long extended mag release. It is drop in after removing the stock and the two trigger group pins...takes less than two minutes to install. There is zero take-up with a crisp break and minimal after travel. I have not measured the trigger break but from experience would put it at the advertised two and a quarter pounds. It is not adjustable for break weight or after travel, but Hornet seems to have gotten this right without the need for me to mess with anything. Since I do not shoot competitively (i.e. putting thousands of rounds down range a year) at $250-$300 for the Volquartsen trigger group, that would have been overkill. I am well satisfied with the product. I will say that it did not come with an offer to purchase the stock Ruger trigger, as some have indicated, which I was hoping to do to lessen the cost of this purchase...suppose I will call Hornet.
Amazon Rating: Five Stars
Speaking from years of experience with Hornet Triggers!  By M. Granato 

I have purchased a number of products throughout the years from hornetproducts.com an have always been satisfied above my expectations with their custom triggers. I still have the original Custom B trigger. It was one of the least expensive triggers they made back in about 2005ish and it still is amazing. With a 2.5lb trigger, so crisp it breaks like glass, don't hesitate on getting anyone of Hornet's trigger! Why pay more for Volquartsen or KIDD when you get the same result for a whole lot less. Even the new BX Ruger trigger for all you purest, doesn't come with the auto bolt release like all of the hornet triggers do. So unless you want to do the trigger job yourself, just let the pros at Hornet Products do the work, you won't regret it. And no I don't work for Hornet Products. I'm just and a real satisfied customer.